Jon Gernon BIO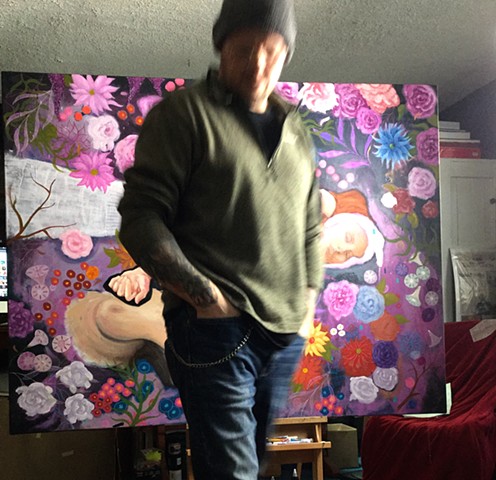 "It's all Alchemy & Witchcraft, mixed with a bit of beauty & humor. If done correctly then you Magic."
Jon Gernon is a painter and independent curator based in Troy, New York. Gernon's current body of work began in 2016 with the idea of creating larger works in a looser fashion. Combining sensuous richness, historical myths and a studio filled with background sounds of shoegazing, dreampop, and noise, Gernon creates moments of conscious dreams and floating beauty. With no intentions other than to manifest genuine beauty, Gernon has created a body of myths and fables for the viewer's personal interpretation, as well as a collection of stories to include and inspire people.
Jon Gernon is a painter, printmaker and independent curator living in the Eastside of Historic Troy, NY. His current works focus on creating modern day fables, allegories and lore. Jon is a former gallerist and gallery director with over 25 five years of curating and designing exhibitions. His personal work has been included in over seventy group and solo exhibitions including at the Attleboro Arts Museum (Attleboro, MA), The Morris Graves Museum (Eureka,CA), The Hyde Collection (Glens Falls, NY), The George Segal Gallery at Montclair State University (Montclair, NJ). The Kinsey Institute at Indiana State University (Bloomington, In). In 2015 his work was part of the traveling Contemporary Magic Realism Exhibition in Denmark,
England, and the United States. His work has been written about and published in American Art Collector, Fine Art Connoisseur, Art Alternative, Juxtapoz, Southwest Art, Artscope, Wallstreet International, Hyperallergic.